Police: York hit-and-run driver chased down, pistol-whipped

Liz Evans Scolforo
York Dispatch
A York City woman whose car was struck by a hit-and-run driver is criminally charged for allegedly giving chase and handing down street justice, and two of her "associates" are accused of helping her.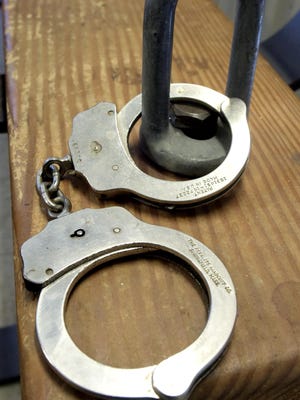 York City Police said Willaidy Orengo-Rivera chased hit-and-run driver Eliam DeJesus, had her "associates" join in, then disposed of a gun used to hold him at bay as he was assaulted.
Orengo-Rivera, 34, of the 400 block of West King Street, remains free on $60,000 bail, charged with five counts of reckless endangerment and one count each of tampering with evidence, obstructing the administration of law and reckless driving.
According to charging documents, DeJesus struck Orengo-Rivera's vehicle shortly before 10 p.m. Monday, Oct. 9, in the 400 block of West King Street but caused no damage to her vehicle.
Orengo-Rivera chased DeJesus and "called others to assist her with this pursuit," documents allege.
Chase: A car occupied by three of her associates, including driver Kenia Colon-Ortiz, also chased DeJesus, police said, in an illegal pursuit that Orengo-Rivera estimated lasted 10 to 15 minutes.
Police allege Orengo-Rivera and Colon-Ortiz drove recklessly and put DeJesus, their other associates and the public in danger of serious injury.
Once the group caught up with DeJesus, one of their cars crashed into his vehicle in the 100 block of South Belvidere Avenue, police said.
The crash also damaged a third vehicle, which wasn't involved in the fray, as well as the properties at 133 and 135 S. Belvidere Ave., according to police.
One of the group members then held DeJesus at gunpoint "long enough for him to be beaten by associates of (Orengo-Rivera)," documents state.
Hospitalized: Charging documents state Colon-Ortiz and Jaime Rivera-Mercado punched and struck DeJesus in the face, head and neck, causing severe cuts and bleeding.
DeJesus was treated at a local hospital for his injuries, according to police.
"This attack lasted while the victim was on the ground, surrounded by other attackers, and (he) was left defenseless," documents state.
At least one of the group members also pistol-whipped him, according to police allegations.
Afterward, Orengo-Rivera removed the gun from the crime scene and disposed of it by giving to an unknown person, police allege.
Police said she repeatedly gave false statements to them about what happened — including what happened to the gun — "until (she was) allowed to watch surveillance footage from the scene," documents state.
Others charged: Police also arrested Colon-Ortiz and Rivera-Mercado.
Rivera-Mercado, 47, of Baron Drive in Lancaster, is charged with simple assault for allegedly beating DeJesus.
And Colon-Ortiz, 28, of the 300 block of East King Street, is charged with four counts of reckless endangerment and one count each of simple assault and reckless driving for the alleged illegal chase as well as for the alleged assault.
Police said a home in the area of the alleged assault had security cameras, so officers were able to view the attack on DeJesus. 
— Reach Liz Evans Scolforo at levans@yorkdispatch.com or on Twitter at @LizScolforoYD.