Police: Kicked-out son turned on gas, trashed Manchester Twp. home

Liz Evans Scolforo
York Dispatch
A man trashed his parents' Manchester Township home then turned on the gas on their stove before leaving, apparently angry they'd kicked him out, according to police.
Meno Harry Meraklis, 31, now of no fixed address, will be charged with risking a catastrophe, making terroristic threats, theft, harassment and two counts of reckless endangerment.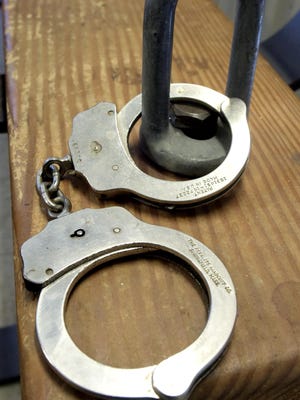 He had not yet been arrested or arraigned on the charges as of Wednesday, Sept. 6, according to court documents.
Northern York County Regional Police Lt. David Lash said Meraklis also will be charged for an earlier domestic disturbance involving his parents and for allegedly causing a police chase.
Shortly after 10 p.m. Sunday, Sept. 3, officers were called to his parents' Sorrel Street home, where Meraklis had been yelling and throwing things in a fit of anger because his parents are selling the house and had kicked him out, according to Lash.
Meraklis was gone when officers arrived, but one officer parked up the street and watched for him, according to the lieutenant. The officer heard Meraklis yelling at 10:45 p.m., then heard a door slam and saw him drive off, police said.
Brief chase: The officer gave chase, but only briefly, according to Lash. The pursuit was stopped over safety concerns, he confirmed.
"The bottom line is, we knew who was driving," Lash said, so officers already knew who to charge with fleeing police and summary traffic violations.
There was no use putting the public or the officer at risk, Lash said.
Officers were called to the Sorrel Street home again about 6:40 a.m. Monday, Sept. 4, by Meraklis' father, documents state.
Michael Meraklis told officers he went to bed about 12:30 that morning and awoke about 6 a.m. to find the gas to his kitchen stove had been turned on, according to charging documents. The burner flame, however, wasn't on, police said.
"Michael believes his son Meno Meraklis was attempting to kill he and his wife," documents state. "Michael advised Meno has threatened to kill him several times over the past month after he kicked Meno out of the house."
More:Police investigating Delta-area vandalism spree
Condiment mischief: Officers also determined Meno Meraklis vandalized the interior of his parents' home, according to documents.
He spread a large amount of butter and mayonnaise throughout the kitchen, including on the ceiling, and used a knife to stick bread to a wall.
There was a handwritten note stuck to a table with a large knife, according to police, who said Meno Meraklis drew a pig on the note and had written, "When I get out of jail or even before I will not forget," according to charging documents.
Officers also found a burned business card from their police department on the table, documents state.
Anyone with information about Meno Meraklis' whereabouts can call Northern Regional Police at 717-292-3647, or call 911.
— Reach Liz Evans Scolforo at levans@yorkdispatch.com or on Twitter at @LizScolforoYD.