Girls' night out ends in handcuffs in Delta

Liz Evans Scolforo
York Dispatch
Two southern York County women who had a girls' night out ended up in holding cells, facing criminal charges, according to police allegations.
Linda Lee Lorick and Stacy Lynn Snyder caught the attention of state police about 12:35 a.m. Wednesday, Aug. 2, when a trooper spotted Lorick speeding down Main Street in Delta, mostly in the opposite lane, according to charging documents.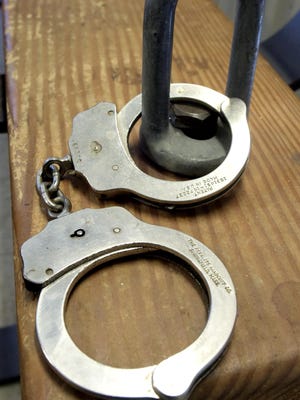 Lorick's Nissan Sentra twice stopped in the road, according to police, which is when the trooper pulled over Lorick for suspected drunken driving.
Neither woman was wearing a seat belt, according to police, who said Lorick and Snyder had two open cans of Miller Lite in the center console.
Previously acquainted: Snyder refused to give troopers her name, but they already knew her, according to charging documents.
Troopers put Snyder in the front seat of a cruiser, but she kept opening the door and trying to walk away, documents state.
Eventually troopers moved her to the back seat, but she used her legs to push them away as they were trying to belt her in, according to documents.
Snyder ignored commands to stop resisting arrest "and had to be forcibly restrained in order to put her seat belt on," charging documents state.
Meanwhile, Lorick was performing field-sobriety tests and showed several signs of impairment for both alcohol and "controlled substance use," police allege.
Lorick told troopers she'd had a drink earlier at a local pizza place, documents state.
Refused test: She refused to take an alcohol breath test and was arrested for DUI, police said. She later refused to take a blood-alcohol test as well, police said.
Troopers at the scene spotted a used pot pipe sticking out from under the front passenger seat, where Snyder had been sitting, according to documents.
They checked Snyder's purse and found a metal crack pipe and other drug paraphernalia in it, documents allege.
Things did not calm down at that point, according to police allegations.
Trooper kicked: During the ride to the county's central booking unit, Snyder kicked the arm of a trooper several times, documents state. Once at central booking, she again resisted arrest as she was being placed in a holding cell, documents allege.
While still at the scene, Lorick complained of a medical emergency and was taken to York Hospital by ambulance for treatment, police said.
Once at the hospital, she kicked an emergency-department nurse in the chest as the nurse was trying to treat her and also "attempted to swing at" another nurse, charging documents allege.
Lorick, 25, of Hushon Road in Peach Bottom Township, was arraigned some hours later at central booking on charges of aggravated assault, simple assault, DUI, five counts of possession of drug paraphernalia, disorderly conduct, harassment and a number of summary traffic offenses.
She is free on $15,000 bail, according to court records.
More:Couple performs arresting dance for state troopers
More:Public sex encounter ends in handcuffs — and not fur-lined ones
Locked up: Snyder also posted bail — $2,000 in her case — but she remains in York County Prison, detained on an alleged probation violation, according to prison records.
Snyder, 33, of East Main Street in Fawn Grove, is charged with possessing a small amount of marijuana, eight counts of possession of drug paraphernalia, simple assault, resisting arrest, disorderly conduct, harassment and summary traffic violations.
It is unclear whether either woman has retained an attorney.
— Reach Liz Evans Scolforo at levans@yorkdispatch.com or on Twitter at @LizScolforoYD.