Md. cop charged with child sex offenses in York County

Liz Evans Scolforo
York Dispatch
Longtime Baltimore County Police Officer Nicholas Bonsall is now suspended without pay, according to records.
A 40-year-old Maryland police officer who lives in York County has been accused of felony crimes related to an alleged sexual relationship with a 16-year-old girl.
Northern York County Regional Police said the relationship came to light when the girl's friend alerted investigators.
Nicholas C. Bonsall, of Mineral Drive in Jackson Township, is charged with the third-degree felonies of unlawful contact with a minor/providing obscene materials and disseminating sexually explicit material to a minor, as well as the misdemeanor of corruption of a minor.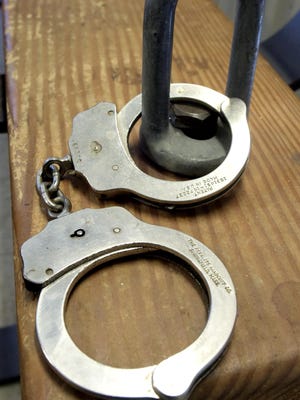 He remains free on $75,000 unsecured bail, according to court documents.
Cpl. Shawn Vinson, director of media relations for Baltimore County Police, said Bonsall is a detective first-class, and has been a Baltimore County officer for 15 years.
Vinson said Bonsall is currently suspended without pay.
The allegations: Northern Regional Police filed charges on July 20, and Bonsall was arraigned on them the next day, court records state.
Charging documents filed by Detective Michael Hine state that he began to investigate after the 16-year-old's friend alerted police in April to an alleged sexual relationship between the girl and Bonsall.
Police interviewed the 16-year-old, who initially was afraid she was "going to get in trouble," documents state; officers told her she wasn't in trouble.
She said she and Bonsall started having contact through Facebook and Snapchat in June 2016 and that they started sending nude photos of themselves to each other when she was 15 years old, documents allege.
Texted nude photos: The teen also confirmed she and Bonsall started having sex sometime around her 16th birthday and said he sent her "a lot" of photos, including of his penis, as well as videos of him masturbating, according to charging documents.
Bonsall told the girl she "had a great body" and asked her to send nude photos to him, which she did, police allege.
Forensic analysis of Bonsall's two cellphones found evidence of texts that contained sexually explicit or obscene images, documents state.
'Daily contact': Hine also learned that Bonsall and the girl had daily contact, including before he left for work and late at night, in his driveway.
"Bonsall would inform her when his wife was not home so they could meet up," Hine wrote in charging documents.
One of Bonsall's cellphones showed a search he did just before police began investigating, for "does deleting my Snapchat account get rid of saved ... messages in the other person's chat," documents state.
More:Baltimore cop pleads guilty to child porn
More:Trial ahead for fired cop accused of having child porn
Not child rape: Bonsall's alleged victim was 16 when they purportedly started having sex, and she consented, according to charging documents.
In Pennsylvania, a minor who is 16 or 17 years old can legally consent to having sex with an adult as long as that adult has no position of authority over them. That's why Bonsall wasn't charged with child rape.
His defense attorney, Dean Reynosa, could not be reached for comment.
Bonsall's preliminary hearing is scheduled for 2:30 p.m.  Aug. 15 at the office of District Judge Tom Reilly.
— Reach Liz Evans Scolforo at levans@yorkdispatch.com or on Twitter at @LizScolforoYD.