Coroner: Woman killed, boyfriend hurt in Codorus Twp. crash

Liz Evans Scolforo
York Dispatch
An autopsy on the body of 41-year-old Ambre Rheinhardt is set for Tuesday at Allentown's Lehigh Valley Hospital.
A Glenville-area woman was killed and her live-in boyfriend was hurt when their pickup truck crashed into a tree over the weekend in Codorus Township, state police said.
Ambre Rheinhardt, 41, of St. Johns Road in Manheim Township, was pronounced dead at the scene of the crash at 8:21 p.m. Sunday, Oct. 1, according to the York County Coroner's Office.
She wasn't wearing her seat belt, according to the coroner's office. Rheinhardt formerly lived in West Virginia, state police said.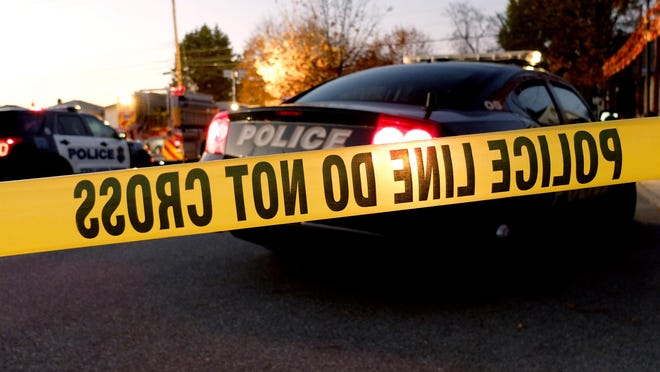 An autopsy is scheduled for 10 a.m. Tuesday, Oct. 3, at Allentown's Lehigh Valley Hospital, according to the coroner's office.
State police said driver Todd A. Gracey, 50, was injured and also wasn't wearing a seat belt.
Gracey was flown to York Hospital by medical helicopter, troopers said.
He was listed in serious condition there on Monday, Oct. 2, York Hospital spokesman Dan Carrigan said.
Head-on into tree: The crash happened at 7:11 p.m. Sunday on Blooming Grove Road, just east of Glenville Road, according to state police, who are investigating.
According to police, the Chevrolet Silverado driven by Gracey was westbound when it went off the right side of the road.
Gracey over-corrected, causing him to lose control of the pickup, which went into the eastbound lane and struck a tree head-on, police said.
After hitting the tree, the pickup rolled, ending up on its roof in the middle of the westbound lane of Blooming Grove Road, according to police.
Trooper Brent Miller, a state police spokesman, confirmed that Rheinhardt and Gracey lived together and were in a relationship.
— Reach Liz Evans Scolforo at levans@yorkdispatch.com or on Twitter at @LizScolforoYD.