Stan Brown of Brown's Orchards dies at 84
Junior Gonzalez
York Dispatch
The longtime president of Brown's Orchards passed away Saturday morning.
Customers remember the legacy of friendliness and service he left behind.
Stan Brown, the longtime president of Loganville staple Brown's Orchards, passed away over the weekend after a battle with cancer. He was 84.
Dave Brown, the company's current president and Stan Brown's son, sent a message to employees that appeared on the business' Facebook page.
In the message, he thanked employees and customers for their support.
"He fought a very courageous battle," Dave Brown wrote.
The company's Facebook page kept customers informed of Stan Brown's condition as recently as last week.
Stan was with family and friends Friday night in hospice as an "angel" played a harp for 90 minutes, Dave said in the post.
"Dad hummed in tune to some of the songs he knew. He was aware, and we were able to share our love with him," Dave wrote.
"He was at peace."
According to the post, Stan died Saturday morning with wife Nona at his side.
Brown's Orchards began with the opening of a 35-acre fruit and poultry farm in Loganville by Stan's parents, Earl and Margaret Brown, in the late 1940s, according to the business' website.
More:SPECIAL REPORT: York farmers navigate immigration law
The business was later taken over by Stan Brown and expanded several times over the next several decades, most notably an expansion of its main market in 2000.
Customers: Customers at Brown's Orchards shopped as normal Sunday, Aug. 13, but some hugged the market's stock clerks throughout the day.
Upon driving up to the market, the company's welcome sign reads, "Loving, kind, caring — Rest in peace Mr. Brown — Enjoy planting in heaven."
Jean Witmer, of Mount Wolf, remembered Stan Brown as "the best Santa Claus in town" once the holiday season arrived. She said she has shopped at Brown's Orchards as long as she can remember for the fresh produce and friendship among customers and staff. She credited Stan for the store's atmosphere.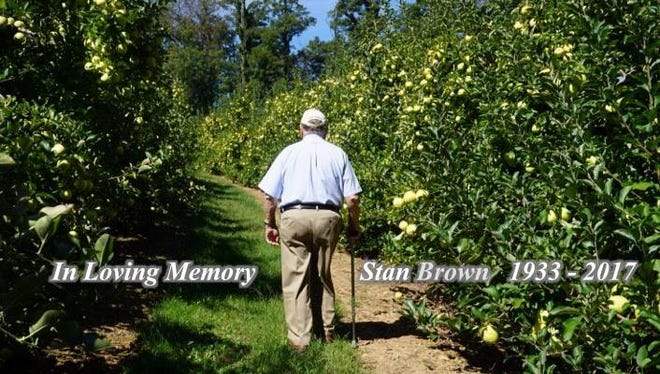 "He is going to be very much missed," she said.
Baltimore resident Phil Timberlake said he visits Brown's Orchards three times a month to buy his groceries.
He said he was "very surprised" to learn of Stan's passing as he made his typical rounds in the market's refrigerated section.
Timberlake added he hopes the store's friendly atmosphere will remain after Stan's passing.
Reached Sunday afternoon, Loganville Fire Co. Chief Bryan Ream said members of the fire company will meet Wednesday night to remember Stan.
Stan's son, Scott Brown, was fire chief of Loganville before he died of a brain tumor in 2005.
"(Stan) was a great guy," Ream said.